Tummy Tuck Recovery
Tummy Tuck | Dr Eddy Dona
Thu 21st Apr 2022
When considering any surgical procedure it is important to be aware of the postoperative recovery process, this is no different with a tummy tuck in Sydney. The tummy tuck is designed to tighten and tone the stomach by removing excess, overhanging skin, and its associated fatty tissue and repair damaged abdominal wall muscles.
Like all invasive surgical procedures, a tummy tuck does involve needing to take time off from your regular lifestyle for recovery, for most people it will take a minimum of 6 weeks before you can begin returning to your normal routine.
This article will explore in-depth the postoperative recovery process following tummy tuck surgery, if you have any further questions or would like to request a consultation with Dr Dona please call our clinic on 1300 373 662 or use the contact form at the bottom of this article to send us a message.
Everyone's Recovery is Different:
Your age and weight are genuine factors that can affect the length of your recovery. Younger individuals will typically heal faster. In addition to this, if your body weight is on the heavier side of the scale, then it is likely that the recovery process will take longer.
Another factor that can affect how long your recovery can take is the variation of tummy tuck performed, some patients experiencing very large amounts of excess skin or require significant abdominal wall reconstruction may require a fleur de lis or open book tummy tuck.
These more extensive procedures are going to result in longer recovery times than a traditional tummy tuck or a mini tummy tuck which is the shortest tummy tuck procedure.
The First 24 Hours After Surgery:
The first 24 hours after the surgery is often described as the least pleasant stage of the recovery timeline. However, this discomfort is short-lived and very common.
As you were unconscious during the surgery due to the use of anesthesia, you will wake up in your hospital bed feeling drowsy. In your hospital bed, you will be positioned with your head elevated and pillows lodged underneath your knees to ensure that there is minimal tension on your incision stitches.
Where the incisions were made around the midsection, you will have dressing applied. Along with the bandages, you will be wearing a compression garment to reduce swelling. Finally, you will likely have one or two plastic drains coming directly out of or just below the incision wounds to prevent fluid buildup, these drains will be removed before you go home.
Any other apparatus used at the hospital is entirely used for your comfort. You will have a catheter to help you urinate and at least one drip in place to give you intravenous fluids, pain control medication and antibiotics
One to Two Weeks Post Tummy Tuck Surgery:
During the first two weeks of your recovery, you will spend most of your resting around the house, it is important to delegate as much of the household duties as possible so that you can rest and allow your wounds to heal.
Swelling and bruising are also to be expected heavily during the first week, along with pain around the midsection, which is what your prescription pain medication is there to assist with. Despite the pain and discomfort, it is highly recommended that you try and move around the house to circulate blood flow to the incision and promote recovery.
At one week following your surgery, you will have one-week post-op consultation, all of your dressings are removed and any sutures are removed. Dressings are then reapplied and these remain intact for another two weeks.
Three to Four Weeks Post Tummy Tuck Surgery:
Pain should be mostly dissipated within four-week stage while sitting or lying down in the affected areas. However, pain or discomfort may pop up from time to time while sitting straight, getting out of bed and driving.
Although the pain has subsided significantly at this stage, it is still recommended to undertake daily household activities with caution as your body is still healing. You will be able to begin driving again during this stage, common sense should be used. If you feel like you are safe to get behind a wheel based on how your body is feeling and how mobile you are, then by all means you can drive.
If your job involves office work or light duties, you will be able to return to work during this stage of your recovery, for more intensive workloads you may need to wait a little longer.
During your three-week postoperative clinic appointment, all remaining dressings are removed. We will also discuss scar care and how to achieve the best possible scar, keeping in mind that it takes 12 months for a scar to mature.
Six Weeks Post Tummy Tuck Surgery
At the six-week stage of the recovery process, the initial symptoms of pain, swelling and bruising should have subsided while resting and standing up and doing daily tasks.
At this point your are free to continue returning back to your normal routines and normal levels of physical activity without fear of jeopardizing your results or the incision wounds. Obviously you will still be a little sore here and there but just let your body guide you.
Ultimately common sense will tell you what's right and wrong at this stage
Pain after Tummy Tuck Surgery
After losing a large amount of weight or undergoing multiple pregnancies, sometimes the skin may not shrink back down to the size of your new body. A tummy tuck procedure is designed to address overhanging skin and correct muscle separation (diastasis recti) which is a common result of carrying large amounts of weight around the abdomen which pushes the abdominal muscles apart.
All surgical procedures do involve some level of pain during your postoperative recovery, a tummy tuck is no different to this. The initial post-operative pain from a tummy tuck can be described as a significant tightness across the abdomen. Many women who've had a caesarean would say a caesarean is worse than a tummy tuck, others say it's worse than a caesarean. Either way, it's similar
As with any chest or abdominal surgery, any straining during the first 2 weeks will cause significant pain. So anything that causes you to strain your abdomen such as coughing, sneezing etc will be uncomfortable. Therefore it is important to avoid these as much as possible and firmly hold your belly when doing this during the first couple of weeks of your tummy tuck recovery.
For the first six weeks after your tummy tuck surgery, you will need to avoid any activities that involve activating or using your abdominal wall muscles. This is because, during your tummy tuck procedure, you will likely have had muscle tightening performed, which Dr Eddy Dona performs by using multiple layers of internal stitches.
Driving after Tummy Tuck Surgery
For the first week or two following your surgery, you will need to get a friend or family member to drive you. After two-weeks postoperative you will be able to start driving again, it is recommended to start off with short trips as you will likely still be quite hunched over and uncomfortable sitting in an upright position for too long. Gradually you will be able to work your way up to longer car drives as you feel able and comfortable doing so.
As a guideline, you should be able to go on longer car drives comfortably by the six to eight-week mark after surgery
Sex after tummy tuck surgery
You should avoid any sexual activity for the first two weeks. Anything that gets your heart rate and blood pressure up is not ideal and any potential pressure etc on your abdominal wall and pubic area will potentially compromise your wound healing.
When you do return to having sex, as previously stated, don't undergo any sexual activity for the first 6 weeks that involves you being too active or activating your core muscles. So basically, up until the 6 weeks post op period, you are taking on a very passive role during sex!
After 6 weeks, you can do what you like without any fear that you're going to compromise your results. Obviously you will still be a little sore here and there but just let your body guide you. Ultimately common sense will tell you what's right and wrong at this stage.
Excercise after tummy tuck surgery
Once you have reached the six-week mark following your tummy tuck
surgery you are free to begin returning to your normal daily life including recreational sports and exercise
without fear of jeopardising the results of your surgery. This will still require a gradual return to your normal levels of physical activities as you will still experience some levels of pain and discomfort.
Returning to work after tummy tuck surgery
The length of time off you will need to take will depend on the type of job you have (i.e. labour or non-labour). When you will be able to return to your line of work will be a discussion point throughout your pre and postoperative clinic appointments, where we can assess how you are feeling and recovering after surgery.
As a general guide, depending on the level of physical activity of your work, you will be to return to work at different times;
Office work is allowed at three weeks.
Hospitality work at four weeks.
labour work is not recommended until after six weeks as a minimum.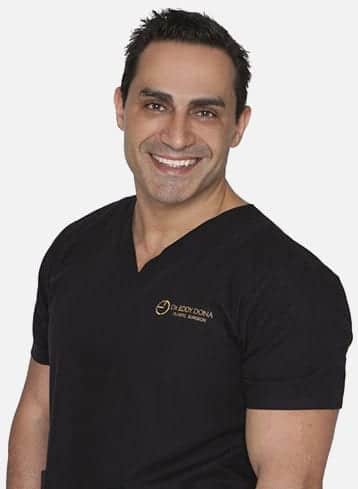 Dr Dona (FRACS) is one of the most in-demand specialist plastic surgeons in Sydney, Australia and is a member of the Australian Society of Plastic Surgeons (ASPA). Following his medicine degree at the University of Sydney in 1996, Dr Dona then began a further 11 years of intensive training to become a Specialist Cosmetic, Plastic & Reconstructive Surgeon.
Since opening his private practice in Bella Vista in 2009, Dr Dona has had patients from all over Australia seeking his expertise treatment and specialisation in cosmetic surgical procedures. Dr Dona is highly sought after for his expertise and experience in all of the cosmetic surgeries he performs. From Breast Augmentations to Tummy Tucks, Brazilian Butt Lifts and every other procedure that he performs, Dr Dona treats every patient with care and precision as if he were performing surgery on his own family member. 
Despite running a busy private practice, Dr Dona still dedicates part of his time to Sydney's largest teaching public hospitals, having provided training to over 50 specialist plastic surgeons and many more doctors. Eddy also commits part of his time to working in some of Sydney's busiest public hospitals, including providing emergency on-call services. This is where Dr Dona is often required to reconstruct the bodies of those affected by trauma and cancer.