Breast Implants – Enlargement
Specialist plastic surgeon Dr Eddy Dona has become the most in demand breast enhancement Plastic Surgeon  in Australia. Over the years, he has continued to refine his technique and apply the latest advancements to ensure he is able to consistently achieve exceptional results for his patients. So why would you want Dr Dona to look after your breast enhancement needs? Thousands of happy patients and many doctors that have been personally trained by Dr Eddy Dona believe he is more than just a master surgical technician, Dr Dona is considered a surgical "artist".
Your Consultation With Dr Dona
In your first visit, Dr Dona will perform a physical examination to assess and advise you on your options, taking into consideration your desires and expectations. You'll also get the opportunity to discuss with Dr Eddy Dona any questions you have in relation to your breast augmentation procedure.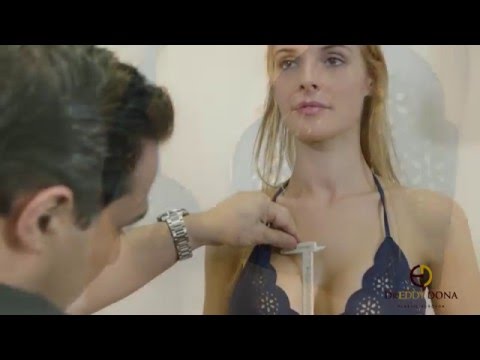 There are many factors that your surgeon needs to consider for your breast enhancement surgery, including your body and breast size, the type and shape of implant, incision site and implant position. Dr Dona doesn't believe one size fits all, and by carefully assessing and understanding your desires, will use the latest techniques to customise your operation, ensuring he meets your specific needs and goals.
SILICONE vs SALINE BREAST IMPLANTS?
Breast enlargement or augmentation is achieved by inserting an implant into the breast.
All implants approved for use in Australia are made of a silicone shell filled with either silicone gel or a saline solution. The surface of the breast implants can be either smooth or textured (rough). Breast implants are manufactured under strict quality control.
Silicone is a naturally occurring element. It has been used extensively in everyday products for many decades and is regarded as one of the most compatible materials for implanting into the body.
Silicone implants have a more natural look, and feel like breast tissue. The cohesive silicone gel is semi-solid which retains its shape and does not run like liquid. Dr Dona, like the vast majority of Australian surgeons, uses only silicone implants due to their superior results when compared to saline implants.
UNDERSTANDING THE DIFFERENT IMPLANT SHAPES AND STYLES
Breast implants are either round or tear drop with different sized widths and projections. There are literally hundreds of different types to choose from.
Round implants have a round base with varying widths and projections.
Tear drop implants are flatter at the upper half and fuller at the lower half with different sized bases and heights, which affect their projection.
The selection of breast implant to be used is dependent on the dimensions of your chest, your current breast shape and size, skin elasticity and the appearance you desire. After a careful assessment, Dr Dona will recommend the particular type of implant shape and size that he feels will provide you the result that will work for you.
DO IMPLANTS NEED TO BE CHANGED EVERY 10 YEARS?
No guarantee can be given about how long breast implants will last, however contrary to many myths, the implants do not have an "expiry date". The duration is influenced by the reaction your body has to the implant, the lifestyle you lead and even your occupation. Although many women have had their implants for many years, they should not be considered lifetime devices. If there is no change to the shape of your breasts or impairment to the implant, there is no need to change the implants regardless of how long the implant has been in the breast. Of course, we all age and the natural breast volume will change over time and gravity will take its toll (with or without an implant). Therefore, if you want to maintain a full perky youthful breast, then at some stage you may wish to have further surgery.
THE DIFFERENT INCISION LOCATIONS
There are 3 possible incision positions in which the breast implant can be inserted, depending on your personal preference, your body type and Dr Dona's professional preference. All have their advantages and disadvantages. All operations cause a scar and take time to heal and fade.
Inframammary – the most popular surgical approach. The incision lies within the natural crease along the bottom of the breast. It is approximately 4-5cm in length and the resultant scar typically fades in time. It allows excellent exposure of the space where the implant will be placed.
Periareolar – a semi-circle at the border of the areola (pigmented skin surrounding the nipple). The size of the areola limits the size of the implant that can be inserted. There is also a risk of loss of nipple sensation as well as potential distortion in this incision.
Axillary – or under the arm, means that you will not have a visible scar on the breast itself. If the eventual scar does not fade it can be obvious when the arm is elevated, preventing you from wearing short sleeved clothing. Bruising is far more common with this incision and there are some technical disadvantages with this approach.
THE DIFFERENT IMPLANT POCKETS
The implant is placed either in front of the pectoralis muscle (prepectoral) or behind it (subpectoral). Each has its advantages and disadvantages and is highly dependent on the shape you want to achieve, breast tissue and thickness of your pectoralis muscle. Dr Eddy Dona will advise you on which is the best suited for the result you want.
Prepectoral – behind the breast tissue and in front of the pectoralis muscle.
Subpectoral/Dual Plane 1 – behind the pectoralis muscle. It gives a smoother line and has a more natural shape, a lower chance of hardening and is easier for future mammography.
Subpectoral/Dual Plane 2 – this is an extension of the dual plane 1 resulting in greater implant in the lower half that is not covered by muscle.
ADDITIONAL FACTS
MAMMOGRAPHY– routine clinical or physical examinations will not be hindered by breast implants – breast cancer can still be detected in an augmented breast, in fact, any breast lump will probably be made more prominent by the breast implant. When you have your scheduled mammograms, inform the radiologists of your implants so that you are given the appropriate mammogram. Occasionally, to achieve a better examination of breast tissue, some women have additional tests such as an ultrasound or MRI.
BREAST CANCER – numerous scientific studies have demonstrated there is absolutely no connection between breast cancer development and breast augmentation. The implant is not placed within the breast, but behind the breast or behind the muscle on the chest wall. In fact, many studies have shown that the risk of developing breast cancer is less among women with implants compared to women without implants.
BREASTFEEDING – breast implants does no affect your ability to breastfeed. However, the longer you breastfeed the more likely your breasts will droop after you stop breastfeeding due to the prolonged engorgement of your breast tissue (with or without implants).
CONNECTIVE TISSUE AND AUTOIMMUNE DISEASE – while there have been some allegations that these conditions are associated with breast implants, extensive scientific studies have demonstrated absolutely no connection between the two.
PREPARATION FOR SURGERY
You will need to disclose your complete medical history to Dr Dona, including all health problems. You will be given the opportunity to discuss your medical history and concerns in your initial consultation, and are asked to disclose all relevant details in your "Patient Registration Form".
Do not take any blood thinning medications such as; aspirin or any medicine containing aspirin, large amounts of vitamins or anti inflammatory drugs for 2 weeks prior to any surgery.
Do not smoke for at least 2 weeks prior to surgery, as smoking increases surgical and anesthetic risks and can lead to serious complications.
WHAT TO EXPECT DURING YOUR RECOVERY
Most women are ready to go home a few hours after surgery, although in some cases we may recommend an overnight stay. Some discomfort and pain are normal; you are likely to require pain relief in the first few days, and we will also give you routine post-operative prophylactic antibiotics to support your recovery process.
During recovery, get lots of rest, drink plenty of fluids and eat small, healthy meals regularly. All surgery results in some swelling and bruising but should start to settle after a couple of weeks. The scar from the incision will be slightly red for a few months before it fades.
For the first two weeks it is recommended that you sleep on your back or side. Avoid smoking for at least two weeks after surgery as it impairs wound healing.
You will be advised about when you can return to normal activities and work. However, heavy upper body activities and sports should be avoided for at least four weeks after surgery.
You will be given a post-operative surgical bra which you will need to wear for six weeks. Following this, you can go out and be fitted for your new bras!
WHEN CAN YOU EXPECT YOUR FINAL RESULTS?
Women are understandably extremely pleased with the fuller, perkier breast achieved through breast augmentation surgery. Initially, you will notice some swelling and upper fullness to your breasts. This will slowly settle and typically you will see the "final" results about three months after your surgery.
Your breast size and shape will change due to pregnancy, weight loss, weight gain, lifestyle, genetics and as a normal process of aging. Breast implants will not stop the effects on breast size and shape caused by these situations.
WHAT ARE THE POSSIBLE COMPLICATIONS?
As with any surgery, there are always possible risks and potential complications. However, they are generally rare and if they occur are detected and managed during your post-operative follow-up. They include wound infection, bleeding, chest infection, poor scarring, blood clots, bruising and swelling.
BIA-ALCL – Possible risk of rare form of Lymphoma in association with breast implants. This is a rare disease and only about 50 patients have been identified in Australia. This risk may be 1 in 5000 women with breast implants. To put things in perspective the risk of developing breast cancer in women with or without implants is approximately 1 in 8 women.  See TGA website for the latest updates www.tga.gov.au/alert/breast-implant
Capsular contracture – the body forms scar tissue around the implant, often referred to as a "capsule". In up to five percent of women, this capsule can thicken and shrink making the implant firm and hard and in some cases painful – "capsular contracture". The shape of the implant may also distort usually becoming round. If capsular contracture is severe, the implant may have to be replaced or removed.
Calcium deposits can form in the capsular tissue around the implant and be confused with calcium deposits seen in cancer. This may require removal for further examination.
Fluid accumulation – body fluid and blood can accumulate around the implant after surgery; treatment may be needed to drain excess fluid.
Nipple sensation – changes in sensation (increase or decrease) are expected after any surgery but normal sensation should return over the course of 6-12 months. Permanent loss or alteration of sensation can occur in 5-10% of women.
Implant shift – an implant may move from its original position causing discomfort and distortion in breast shape. This is more of a problem with teardrop implants and may require corrective surgery.
Implant extrusion – rarely the implant may extrude through the wound or the skin and become exposed. This is more likely after severe infection.
Rippling of implants and skin wrinkles – most implants develop some minor ripples and cannot be felt at all. However sometimes major ripples develop and can lead to wrinkles and ripples being felt and appearing on the skin. This is more likely to occur if the overlying skin and breast tissue is thin, and also with very soft silicone gel or saline implants.
Stretch marks – may appear a few months after the implant surgery. They will be red initially but eventually will diminish into white marks. If you have stretch marks before breast enlargement, they can sometimes become less visible after breast enlargement.
Breast size and shape – no woman has perfectly symmetrical breasts before surgery. However, Dr Dona will make every effort to ensure the breasts are as close to perfect as possible after surgery. However, despite every effort to achieve "perfection" sometimes the final shape or settling of the breast implant is not ideal and may warrant further surgery.
Monoboob – otherwise known as symmastia can occur after breast augmentation. Due to significant post-operative swelling, all women develop some degree of monoboob immediately after surgery. However, long term monoboob can occur and can vary from mild to severe. The causes include – overly large implants; trying to surgically create too much cleavage and overdoing it; anatomical predisposition to developing it. Initial treatment is typically conservative but occasionally surgery is required to correct this very difficult problem.
Bottoming out and Sagging – large breasted women, whether it is natural or implants, are more prone to sagging compared to smaller breasted women. Therefore I advise all women that it is vital to always wear (except for those odd occasions that warrant no bra) well fitted supportive bras to minimise the risk of this happening. Also, sometimes the implant itself can appear to "slip" or drop down on one or both sides whilst the natural breast tissue remains in its normal position. This is referred to as "bottoming out" and is one cause of a "double bubble" which typically requires surgical correction. This can occur for a number of reasons and often there is an anatomical problem making this more likely.