How Much Does A Tummy Tuck Cost?
Tummy Tuck | Dr Eddy Dona
Sun 4th Jul 2021
One of the most common questions we receive about tummy tuck surgery at our clinic is how much the surgery costs. Unlike more standard fee procedures such as breast augmentation, tummy tuck surgery pricing depends much more on the patient's body. Larger tummy tucks could take up to five hours, whereas a tummy tuck procedure on a smaller patient may only take two hours, resulting in a lower surgical cost. Every patient's body is unique, so it is difficult to provide a precise cost estimation without an initial consultation. Every tummy tuck procedure performed by Dr Dona is tailored to the patient's individual body and is not a standard 'cookie-cutter' procedure. Several other factors come into play, such as whether you are eligible for a Medicare rebate and your level of private health cover. Although we discuss the factors affecting the cost of a tummy tuck procedure in-depth in this article, the best way to obtain an exact price for your tummy tuck surgery is to book a consultation with Dr Dona so he can assess your situation. To book your consultation, please call us on 1300 373 663.
What is a Tummy Tuck?
Abdominoplasty, more commonly known as a tummy tuck procedure, is designed to remove and tighten excess skin around the abdominal region; this excess skin could result from several factors, such as post-pregnancy or extreme fat loss. During the procedure, an incision is made below the bikini line resulting in your scar being nicely hidden away. This is also the optimal position for improving abdominal shape. There will also be a scar around the belly button, as it will be relocated at the end of the procedure to its new home. A tummy tuck will also remove most abdominal scarring and stretch marks, including any caesarean scars. Other abdominal issues such as muscle separation and abdominal wall hernias can be resolved during a tummy tuck procedure performed by an experienced specialist plastic surgeon such as Dr Dona.
Tummy Tuck Initial Consultation
Your initial consultation includes a minor contributing fee to your total surgical costs, and you will not be charged for follow-up appointments during the first 12 months of postoperative care (after your surgery).
Your initial consultation with Dr Dona will include:
a

physical examination of your abdominal area

an

a

ssess

ment

and discuss

ion

together about

your concerns, such as excess skin, muscle separation or abdominal wall hernia issues

asking

several questions about your medical history

,

specifically relating to any previous abdominal surgery

Dr Dona

answering

any questions you may have regarding the operation.
After Dr Dona has assessed whether you are suitable for a tummy tuck procedure, a surgical plan will be created to provide you with the desired outcome. This will also include a discussion about the realistic results achievable from your surgery.
Dr Dona will also discuss your expected recovery time and any potential risks or complications to help you make an informed decision about your tummy tuck surgery.
After your consultation, one of our registered nurses will be happy to further discuss the costs with you and check possible surgery dates. Planning the right time to have your tummy tuck is essential since you will need to take things easy for a minimum of three weeks following the surgery.
Variations in Tummy Tuck Procedures
We touched on this earlier, but there are several reasons why someone may consider having a tummy tuck procedure. This procedure addresses the issue of overhanging or excess skin around the belly, which, in most cases, is caused by the abdominal area shrinking back down in size after weight loss or pregnancy. Although your body has shrunk, the skin does not completely shrink back down to fit your new shape. It is hard to help this further using natural solutions such as diet or exercise because the skin itself can only tighten to a certain point.
This is when the skin needs to be 'resized' to fit your new body shape, which is done by removing the excess skin. Just like people come in all shapes and sizes, so do tummy tuck procedures. Every tummy tuck procedure is tailored to the individual; some people may have lost a significant amount of weight, resulting in a great deal of overhanging skin that can create functional and skin irritation issues. These larger, fleur de lis tummy tuck procedures generally take a lot longer to perform than a mini tummy tuck on a smaller individual. That means that the surgical fees can differ based on the size and time required for each individual. However, Medicare rebates are available for those in surgical need of a tummy tuck and can significantly reduce out–of–pocket costs. If you are eligible for the Medicare rebate for a tummy tuck procedure, you will also likely be eligible for part of your fees to be covered by your private health insurer (this will depend on your health insurance provider and the level of cover you have).
Tummy Tuck Hospital Fees
Abdominoplasty (tummy tuck) procedures are not performed in public hospitals, which means part of the total out–of–pocket cost for your surgery will include private hospital fees. Hospital fees make up a significant portion of the total out–of–pocket costs for a tummy tuck procedure, especially if your private health insurance provider does not cover part of your
hospital expenses.

Your hospital fees

will

cover:

operating theatre costs

h

ospital accommodation for postoperative care

.
After the operation, most patients will spend two days in hospital to recover from surgery before being discharged. Within the 48 hours after your surgery, you will be cared for and monitored by the hospital staff until you are ready to be discharged and go home.
Tummy Tuck
Anaesthetist
Fees
The anaesthetist's role is a crucial part of any surgical procedure. Their role is to properly administer anaesthesia so that you are not awake during the operation. They will then carefully monitor your vital function signs throughout the surgery. An anaesthetist is a fully qualified medical doctor who, after obtaining their medical degree, has spent at least two years working in the hospital system before completing a further five years of training to specialise in anaesthesia (Australian Society of Anaesthetists). If necessary, they will also play a role in your postoperative comfort and pain management. Unfortunately, there is no set pricing that you can expect to pay an anaesthetist. The cost of your anaesthetist will vary depending on the length of your procedure.
Mini Tummy Tuck Cost
A mini tummy tuck is smaller than a traditional tummy tuck and is, therefore, a less expensive procedure. During a mini tummy tuck procedure, the incision made along the lower abdomen is much shorter than the hip to hip incision of a traditional tummy tuck. It is performed below the belly button; the belly button remains in its original position (unlike a full tummy tuck, which involves relocating the belly button).
The mini tummy tuck is an ideal option for women who only have a small amount of overhanging belly skin that they would like to correct to achieve a flat stomach. Another advantage of a mini tummy tuck is a faster recovery time than a traditional tummy tuck. It is important to note that only a small group of women benefit from this type of tummy tuck.
Can I
G
et a Medicare
R
ebate for a Tummy Tuck?
A tummy tuck procedure can be required not just for aesthetic reasons but for functional reasons as well.
Generally, patients who have a higher volume of excess skin may experience or suffer from one or more concerns, including:
s

kin

i

ntegrity

i

ssues

s

weat rash

u

lceration within the belly button and abdominal folds

a

fatty apron

a

low hanging pubic area

h

ygiene issues

.
These are all real issues that can affect a patient in surgical need of a tummy tuck. Medicare may provide you with a rebate towards your procedures, providing you meet certain criteria.
Does Private Health Insurance Cover My Tummy Tuck Surgery?
Whether your private health insurance will contribute to your tummy tuck surgery depends on your health insurance provider and the level of private health cover you have. However, if you are eligible for the Medicare rebate, you may also be able to claim some (if not all) of the hospital and anaesthetist fees.
If you are not eligible for the Medicare rebate towards your tummy tuck, it is likely that your private health insurance provider will not contribute to your total surgery costs.
Determining your eligibility for Medicare and your health fund can only be determined with a face-to-face consultation with Dr Dona.
Follow
–
Up Appointment Costs
We like to see all our patients back in our clinic for several follow–up appointments within the first 12 months after the tummy tuck procedure. This is important so that we can check in and see how they are progressing through their recovery.
We ask our patients to come in for postoperative milestone appointments after:
one week

t

hree weeks

s

ix weeks

t

hree months

s

ix months

.
This schedule may vary, and Dr Dona will discuss this with you. We are also happy to see you anytime between these visits if necessary. You will not need to pay for any of your
follow–up visits within the first 12 months after your surgery, as they are included in your surgery fee.
Many of our patients travel interstate for their surgical procedures, and for these patients, we help make provisions and arrangements for them to stay in touch following their surgery. You are more than welcome to pop into our clinics anytime when you are travelling through Sydney—just let our clinic know ahead of time, and we will make sure to fit you in for a follow-up appointment.
How Much Will My Tummy Tuck Cost?
Tummy tuck procedures are exceptionally tailored procedures and cannot be precisely quoted without an in-person consultation. This article has endeavoured to guide you through the basic aspects of the procedure and its cost breakdown. If you would like an exact quote for your potential surgery, please book a consultation with Dr Dona for an assessment.
Your quote will include the total out–of–pocket cost with no hidden expenses for your specific surgery, taking into consideration your private health insurance status and eligibility for the Medicare rebate. At the end of your initial consultation, you will have a clear picture of your surgical options and the financial impact of your potential procedure.
If you have any further questions or queries regarding tummy tuck surgery or any other procedures offered by Dr Dona, please do not hesitate to call our clinic on 1300 373 662 or email [email protected].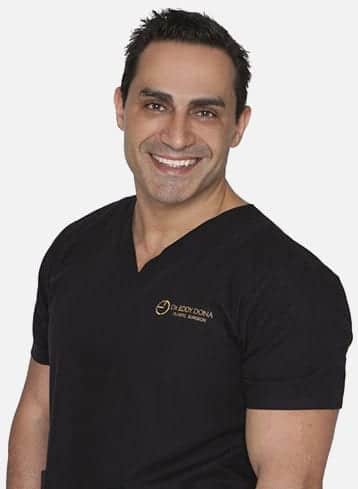 Dr Dona (FRACS) is one of the most in-demand specialist plastic surgeons in Sydney, Australia and is a member of the Australian Society of Plastic Surgeons (ASPA). Following his medicine degree at the University of Sydney in 1996, Dr Dona then began a further 11 years of intensive training to become a Specialist Cosmetic, Plastic & Reconstructive Surgeon.
Since opening his private practice in Bella Vista in 2009, Dr Dona has had patients from all over Australia seeking his expertise treatment and specialisation in cosmetic surgical procedures. Dr Dona is highly sought after for his expertise and experience in all of the cosmetic surgeries he performs. From Breast Augmentations to Tummy Tucks, Brazilian Butt Lifts and every other procedure that he performs, Dr Dona treats every patient with care and precision as if he were performing surgery on his own family member. 
Despite running a busy private practice, Dr Dona still dedicates part of his time to Sydney's largest teaching public hospitals, having provided training to over 50 specialist plastic surgeons and many more doctors. Eddy also commits part of his time to working in some of Sydney's busiest public hospitals, including providing emergency on-call services. This is where Dr Dona is often required to reconstruct the bodies of those affected by trauma and cancer.