Happy Anniversary & About Dr Dona
Blog | Dr Eddy Dona
Mon 29th Jun 2020
On the 29 June 2009, I proudly opened my private plastic surgery clinic in the Sydney suburb of Bella Vista. So today we celebrate 11 amazing years! During that time, my clinic has basically been my home and the only place where people can come and have a formal consultation with me. I have patients travel from all over Australia to see me for treatment, and this is where they come for that all important first consultation and subsequent care.
So today I thought I'd use this moment to answer some of the questions about myself I'm frequently asked.
I was born, raised, educated and trained in Sydney.
I graduated in Medicine from the university of Sydney and became I doctor in 1996. I then spent a further 11 years of training until I finally became a specialist plastic surgeon in January 2007.
I often get asked about my background – where does "Dona" come from? It's a Lebanese surname with both my parents originating from Lebanon. In fact, I was the very first doctor of Lebanese heritage in NSW, and possibly Australia, to become a specialist plastic surgeon! With my background, including attending Public Schools in Sydney's western suburbs, it was quite a challenge to be the first to try and get onto the plastic surgical training programme where the hierarchy back then was primarily anglo-saxon or private school boys surgeons – but I did!
And whilst my name has been used by a number of clinics since 2007, here in Bella Vista is the only clinic that I have owned, it is the only clinic that I've ever run, it is my name, it is my life, and I manage it to the high standards that my private patients deserve.
As a specialist plastic surgeon, I operate out of several private hospitals around Sydney.
Despite running a busy private plastic surgery clinic, I still dedicate part of my time to one of Sydney's largest teaching public hospitals. It is here that I often look after all the non-cosmetic plastic surgery problems such as hand and skin cancer surgery, including trauma and reconstructive microsurgery. It is also here that I provide training and mentoring to the future generation of plastic surgeons. And over the years I have provided training to over 50 plastic surgeons. I've also provided some training to many other doctors including those practicing cosmetic surgery.
Over the last 5 years I have established Australia's leading plastic surgery YouTube channel. It is here that I happily showcase all manner of plastic surgery cases including extensive explanatory videos. This is primarily designed for the general public to help better understand plastic surgery and appreciate what it can achieve. However, it is also used as an educational platform for the numerous surgeon followers to help them up-skill.
Finally, I want to take this opportunity to thank all my patients that have chosen me as their surgeon. I seriously do consider it a privilege when someone chooses me to look after them. I'm always grateful and humbled by every patient that has placed their health and well-being in my hands.
Myself, along with my team at our Bella Vista clinic will always strive to do our very best to deliver you the very best of care. Ensuring you have a smooth, stress free transformation journey and treating everyone like a WORKofART is what we love to do. Hopefully, we'll be able to continue doing exactly that for at least another 11 years.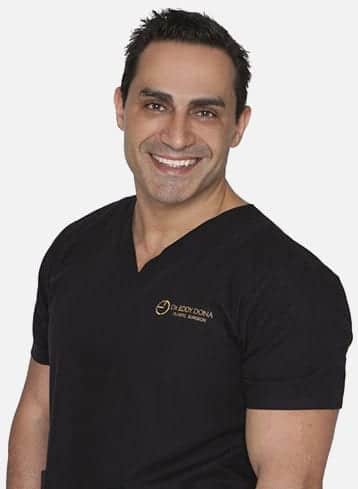 Dr Dona (FRACS) is one of the most in-demand specialist plastic surgeons in Sydney, Australia and is a member of the Australian Society of Plastic Surgeons (ASPA). Following his medicine degree at the University of Sydney in 1996, Dr Dona then began a further 11 years of intensive training to become a Specialist Cosmetic, Plastic & Reconstructive Surgeon.
Since opening his private practice in Bella Vista in 2009, Dr Dona has had patients from all over Australia seeking his expertise treatment and specialisation in cosmetic surgical procedures. Dr Dona is highly sought after for his expertise and experience in all of the cosmetic surgeries he performs. From Breast Augmentations to Tummy Tucks, Brazilian Butt Lifts and every other procedure that he performs, Dr Dona treats every patient with care and precision as if he were performing surgery on his own family member. 
Despite running a busy private practice, Dr Dona still dedicates part of his time to Sydney's largest teaching public hospitals, having provided training to over 50 specialist plastic surgeons and many more doctors. Eddy also commits part of his time to working in some of Sydney's busiest public hospitals, including providing emergency on-call services. This is where Dr Dona is often required to reconstruct the bodies of those affected by trauma and cancer.