MUMMY MAKEOVERS
Mummy Makeover | Dr Eddy Dona
Fri 19th Oct 2018
Mummy makeovers restore your body to it's former glory…
A new baby brings many changes into a woman's life. Some expected such as sleepless nights and nappy changes and some not so expected such as stretch marks, sagging breasts and excess fat.
Plastic surgery is no longer a taboo topic, nor is it a procedure exclusively for the rich and famous. Sydney plastic surgeon Dr Eddy Dona says that "women quickly realise that diet and exercise alone can't always help with their post-baby bodies and they are choosing to have these procedures to get back to their pre-baby bodies."
Post pregnancy procedures dubbed as "mummy makeovers" are typically a combination of a tummy tuck, a breast lift and breast augmentation – and they are on the increase. According to a 2010 survey by the American Society of Plastic Surgeons, there has been an 85% increase in tummy tucks, 70% increase in breast lifts and a 39% increase in breast augmentations since the year 2000. "Not all mummy makeovers are the same; every woman has her own concerns. The main aim is to attend to the areas which have not responded to diet and exercise".
A survey released by the American Society of Plastic Surgeons concluded that if cost were not an issue, 62% of mothers said that they would consider a "mummy makeover". The most common concerns of some of Dr Dona's patients include lack of breast volume, stretch marks, loose skin around the abdomen and excess fat.
Read on as Dr Eddy Dona breaks down the procedures for us…
MUMMY #1: UNHAPPY WITH SMALL BREAST SIZE
A common concern following breast feeding or weight loss is a reduction in the normal size of your breasts, resulting in a "deflated" look. A breast enlargement, also known as a breast augmentation, is often requested to restore breasts to their pre-pregnancy volume. Dr Eddy Dona suggests "this is suitable for those women who desire fuller breasts."
MUMMY #2: UNHAPPY WITH SAGGING BREASTS
Pregnancy can affect the elasticity of the breast skin resulting in sagging breasts. A breast lift or a mastopexy is the process of removing excess skin, lifting the breasts and repositioning the nipple higher. "A breast lift can help restore the breast shape and create a more youthful look" says Dr Eddy Dona.
MUMMY # 3: UNHAPPY WITH BREAST SIZE AND NEEDING A LIFT
A breast augmentation on its own will not correct breasts that have severely dropped and lost volume post pregnancy. Dr Dona says "combining both a breast enlargement with a breast lift during the same operation is the ideal procedure to restore breast to the former youthfulness."
MUMMY #4: UNHAPPY WITH EXCESS FAT
Liposuction can be performed on your legs, thighs, hips, face and abdomen. "Often, no matter how hard we work at it, fat will stubbornly remain in certain areas of your body". Liposuction can assist in creating a more flattering version of your already wonderful self.
MUMMY #4: UNHAPPY WITH SAGGING STOMACH
Pregnancy can affect the abdominal wall skin and muscles leaving sagging skin around the stomach. Weight loss or liposuction alone cannot repair this, however an abdominoplasty, more commonly known as a "tummy tuck" can. The procedure involves removing excess fat and skin around the stomach as well as tightening up the muscles. Most, if not all the stretch marks will be removed during this procedure!
FYI
Any combination of these procedures can be done in conjunction with the other. Your surgeon will assist you in choosing the most appropriate procedures to address your concerns and to tailor your "mummy makeover". In some cases breast lift and tummy tucks are partially claimable from Medicare, conditions do apply and you will need to discuss it further with your surgeon.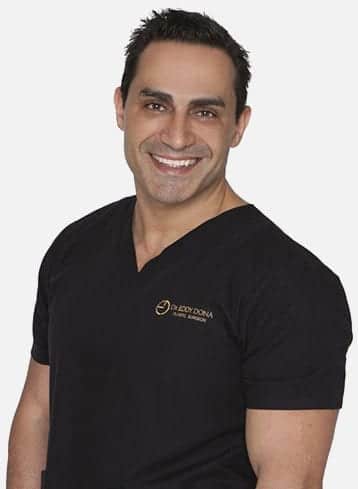 Dr Dona (FRACS) is one of the most in-demand specialist plastic surgeons in Sydney, Australia and is a member of the Australian Society of Plastic Surgeons (ASPA). Following his medicine degree at the University of Sydney in 1996, Dr Dona then began a further 11 years of intensive training to become a Specialist Cosmetic, Plastic & Reconstructive Surgeon.
Since opening his private practice in Bella Vista in 2009, Dr Dona has had patients from all over Australia seeking his expertise treatment and specialisation in cosmetic surgical procedures. Dr Dona is highly sought after for his expertise and experience in all of the cosmetic surgeries he performs. From Breast Augmentations to Tummy Tucks, Brazilian Butt Lifts and every other procedure that he performs, Dr Dona treats every patient with care and precision as if he were performing surgery on his own family member. 
Despite running a busy private practice, Dr Dona still dedicates part of his time to Sydney's largest teaching public hospitals, having provided training to over 50 specialist plastic surgeons and many more doctors. Eddy also commits part of his time to working in some of Sydney's busiest public hospitals, including providing emergency on-call services. This is where Dr Dona is often required to reconstruct the bodies of those affected by trauma and cancer.