Mummy Makeover Packages
Mummy Makeover | Dr Eddy Dona
Mon 27th Jun 2022
Motherhood can be both beautiful and terrifying, but it does not mean that you have to sacrifice your self-confidence and appearance to enjoy it.
A mummy makeover is a combination of multiple operations, particularly surgery of the breast and abdomen following pregnancy. The physical signs of pregnancy can often be surgically corrected with great success. The breasts may be lifted or augmented with an implant or both lifted and augmented. The abdomen can be repaired and sculpted with an abdominoplasty procedure (tummy tuck), with or without liposuction. It is a commonly performed procedure for mothers wanting to restore their pre-pregnancy physique and improve their self-image.
Mummy Makeover Packages —Is It Right for Me?
Although the term 'mummy makeover' refers to correcting the issues that arise from pregnancy, there is no set list of procedures. What goes into the surgical combination is very personal—no two mummies are alike, so each mummy makeover package is tailored to meet the woman's individual needs. We will help you pinpoint areas of particular concern during your consultation, and we will discuss restorative options.
Further, although mummy makeovers generally refer to women who have given birth, you don't need to be a mummy to have a mummy makeover! It is a popular term for having breast and tummy surgery at the same time, as these two surgeries pair well together. Women who have lost a significant amount of weight can also benefit from a mummy makeover.
Your Mummy Makeover Package May Include
The tummy tuck procedure is one of the most common surgeries included in a mummy makeover package, second only to breast surgeries. It is no surprise why. Pregnancy, weight fluctuations and the aging process all promise excess skin and stubborn fat accumulation around our midsections. The inconvenient truth about those annoying 'love handles' (oh, the irony) is that there is no miracle exercise, diet or cream that can completely reclaim the firm waist of our youth.
Abdominoplasty surgery, also referred to as a 'tummy tuck', is a surgical procedure that successfully sculpts the midsection for a tighter, more appealing body contour. The procedure can also repair weakened and separated abdominal muscles, further tightening the stomach. Although abdominoplasty is considered a cosmetic procedure, it also improves two of the most common physical complaints experienced by women after labour and delivery—pain and incontinence. Therefore, the procedure is cosmetic and reconstructive by nature.
Patients seek tummy tuck surgery to:
a

lleviate pain and urinary incontinence

e

nhance their self-image and self-confidence

a

lleviate itching, infections and irritations caused by excess skin

a

lter the tone and shape of the abdomen, creating a flatter and firmer abdomen

repair structural abdominal defects such as Diastasis recti (separated abdominal muscles), hernias and other abnormalities caused by trauma, obesity, pregnancy and extensive weight loss.
Abdominoplasty surgery typically involves the surgeon making a horizontal incision along the lower abdomen so that the underlying abdominal muscle can be tightened, and the fatty tissue and excess skin can be removed. In cases where the rectus muscle has separated (divarication), the muscle will be brought back together and sutured internally along the connective tissues. The navel, or belly button, will be repositioned, and the incision will be closed with stitches, tape or clips. The incision is strategically placed along the pubic hairline to hide the scar underneath your underwear.
Ultimately, the procedure removes excess skin and fat from the abdomen and repairs loose and separated abdominal muscles. The result is a flatter, firmer and shapelier abdomen.
Liposuction, also referred to as lipectomy, lipoplasty and body contouring, is a cosmetic surgery that removes excess stubborn fat. Liposuction is not a magical weight-loss method; instead, it is a method that reshapes certain areas of the body by removing excess fat deposits. Liposuction is commonly used to target areas where stubborn fat that does not respond to diet and exercise collects, such as the abdomen, thighs, buttocks, arms and under the chin.
It is worth considering liposuction if:
You want to sculpt and reshape your body.

Your figure is affecting your self-image and confidence.

You have stubborn fatty deposits that are resistant to diet and exercise.
During the liposuction procedure, a small incision is made, and a sterile liquid is injected into the vein to prevent bleeding and trauma. Then, a cannula is inserted into your fat layers using a careful back and forth motion to break up the fat cells. The dislodged fat is then suctioned out of the body using a surgical vacuum or a large syringe attached to the cannula. The process is repeated over and over in target areas, creating a more sculpted look.
The fat cells that are removed are gone permanently. If a patient gains a little weight after liposuction, the existing cells will accumulate more fat. Thus, their figure simply becomes a larger version of their new body shape. However, if much weight is gained, new fat cells can develop.
Breast augmentation, also referred to as augmentation mammoplasty, breast implants or a 'boob job', is a cosmetic surgery that involves using saline or silicone implants to enhance the size, shape and volume of your breasts. Breast augmentation is the most popular cosmetic surgery in Australia and worldwide. Generally, the breast augmentation procedure promises perkier, fuller breasts that are more symmetrical and appealing. This procedure may also restore breast volume, shape and symmetry after pregnancy or extensive weight loss.
Women seek breast augmentation to:
e

nlarge smaller breasts

r

estore asymmetrical breasts

b

alance breast and hip contours

e

nhance self-image and self-confidence

i

ncrease projection and fullness of breasts

r

econstruct breasts after mastectomy or injury

r

estore breast shape after pregnancy, weight loss or breastfeeding.
There are two types of breast implants typically used in Australia: saline implants and silicone implants. Both types achieve a similar look and have been approved by the Therapeutic Goods Administration. Saline implants are silicone shells typically inserted empty and then filled with sterile salt water (saline). In the unlikely event the shell leaks, the saline implant collapses, and the saline is safely absorbed and expelled by the body. Silicone implants also have a silicone shell, but the shell is filled with a thick, sticky silicone gel that mimics the feel of breast tissue. If a silicone implant leaks, the gel often remains in the implant shell, but it can leak into the breast tissue. It is unlikely that the whole implant would collapse.
In breast augmentation surgery, the silicone or saline implant will be placed behind the breast, either between the breast tissue and the chest muscle or behind the pectoralis major (large chest muscle). Each position and type of implant has its advantages and disadvantages. Your plastic surgeon will discuss the options with you and recommend which option is most suitable for your situation.
Breast Lift
Mastopexy, also known as breast lift surgery, is a surgical procedure that firms and raises the breasts. It can correct sagging and asymmetry caused by pregnancy, breastfeeding, aging, illness or defect. The procedure will not make your breasts appear larger. Instead, it involves removing excess skin, tissue and fat, leaving breasts perkier and firmer.
A breast lift is worth considering, if:
Your breasts have lost shape and volume.

Your nipples and areolas point downward.

Your nipples are below your breast creases.

Your breasts appear to be sagging and stretched.

Your breasts are asymmetrical, with one falling lower.

Your breasts are affecting your self-image and confidence.

Your areolas have stretched out of proportion to your breasts.
Breast lift surgery attempts to defy gravity by removing excess skin, redistributing breast tissue and restoring the original projection of the breast. The breast tissue is commonly reshaped as well, creating a youthful, more appealing breast contour and firmness. The nipples are often repositioned and raised, and larger areolas are reduced by excising the skin at the perimeter, so the breasts appear naturally youthful. Mastopexies can be done in a single procedure or along with a breast augmentation or reduction.
When it comes to the breasts, the nipple and areola often draw the most attention. Women who are unhappy or embarrassed with the appearance of their nipples or areolas may undergo surgery to improve the look, size, height and symmetry. A mummy makeover typically refers to the aesthetic procedures of the nipple and areola, although it is worth mentioning there are reconstructive surgeries for those without nipples due to cancer or trauma.
You may consider nipple surgery, if:
Your nipples are not symmetrical.

Your

areolas are disproportionately large or small.

Your nipples are exceedingly long or droopy.

Your nipples are affecting your self-image and confidence.
An areola reduction is where an incision is made around the areola to remove pigmented areas. This procedure creates a smaller areola circumference while also creating the size, shape and symmetry desired. Many women have this surgery along with a breast lift or augmentation so that the nipples and areola complement the new breast appearance. This procedure is also often performed on women with droopy or misshaped areolas, where some of the pigmented areas are removed or sutured, making the areolas more aesthetically appealing.
Why Choose To Have a Mummy Makeover Package?
Although exercise and diet may help you shift some of the 'baby weight' after having children, they are not always enough to regain your pre-mum body. Separated abdominal muscles, loose skin, stretch marks, stubborn fat and deflated breasts are virtually impossible to reverse naturally. A mummy makeover can ultimately help you boost your self-image and self-esteem, leaving a sexier, shapelier you. If you would like more information about mummy makeover procedures or would like to schedule an appointment with Dr Dona, please call our clinic on 1300 373 662 or email [email protected]
Learn More About; Mummy Makeover Surgery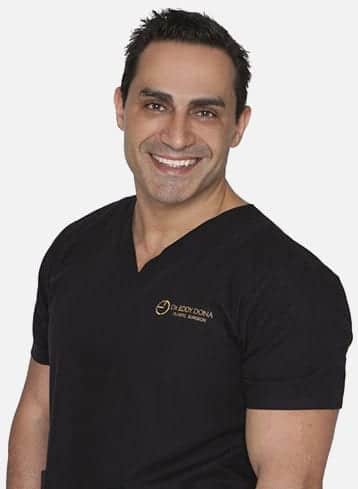 Dr Dona (FRACS) is one of the most in-demand specialist plastic surgeons in Sydney, Australia and is a member of the Australian Society of Plastic Surgeons (ASPA). Following his medicine degree at the University of Sydney in 1996, Dr Dona then began a further 11 years of intensive training to become a Specialist Cosmetic, Plastic & Reconstructive Surgeon.
Since opening his private practice in Bella Vista in 2009, Dr Dona has had patients from all over Australia seeking his expertise treatment and specialisation in cosmetic surgical procedures. Dr Dona is highly sought after for his expertise and experience in all of the cosmetic surgeries he performs. From Breast Augmentations to Tummy Tucks, Brazilian Butt Lifts and every other procedure that he performs, Dr Dona treats every patient with care and precision as if he were performing surgery on his own family member. 
Despite running a busy private practice, Dr Dona still dedicates part of his time to Sydney's largest teaching public hospitals, having provided training to over 50 specialist plastic surgeons and many more doctors. Eddy also commits part of his time to working in some of Sydney's busiest public hospitals, including providing emergency on-call services. This is where Dr Dona is often required to reconstruct the bodies of those affected by trauma and cancer.