How Much Does a Mummy Makeover Cost in Australia?
Mummy Makeover | Dr Eddy Dona
Tue 3rd May 2022
Are you pregnant and struggling with the changes to your expanding body? Or perhaps you've recently had a baby and, instead of feeling content, are overcome with negative emotions about your postpartum body? You're not alone. Studies have revealed that most women struggle with negative postpartum body image after giving birth, and these negative emotions can last for weeks, months and even years.
Many women elect to get a tummy tuck combined with other procedures designed to help restore their pre-baby figures, enhancing their self-esteem and quality of life. This combination of procedures is called a 'mummy makeover'.
A mummy makeover is an umbrella term for combination plastic surgery, meaning that multiple surgical procedures are performed at the same time. The most common combination of procedures in a Mummy Makeover Sydney is a tummy tuck combined with a breast augmentation (implants) or breast lift, designed to rejuvenate your post-pregnancy body.
Every person is unique and has their own unique aesthetic and functional concerns. Because of this, there are many different variations of procedures performed together with a mummy makeover. Below are some of the most common combinations.
Breast Augmentation & Tummy Tuck
The tummy tuck procedure is one of the most common surgeries undertaken in Australia, second only to breast surgeries. Therefore, it's no surprise that the two are the most common combination of surgical procedures in a mummy makeover that Dr Dona performs. This standard mummy makeover addresses the most common concerns that women have with sagging breasts and excess skin on their stomach after pregnancy.
Tummy Tuck
One of the most common complaints I hear from patients in the postpartum period is the persistence of the "mum pooch". This is where women notice a stubborn bulging in the abdomen and excess skin that no exercise, diet or cream can repair. In this situation, abdominoplasty is often recommended.
Abdominoplasty surgery, also referred to as a 'tummy tuck', is a surgical procedure that sculpts the midsection for a tighter, more appealing body contour. The procedure can also repair weakened and separated abdominal muscles (diastasis recti), further tightening the stomach. Although abdominoplasty is considered a cosmetic procedure, it also improves two of the most common physical complaints experienced by women postpartum – pain and incontinence.
There are many variations of the tummy tuck including a traditional, fleur de lis and mini tummy tuck to name a few. These different variations are designed to treat patients according to their individual cosmetic and functional goals. During your initial consultation, Dr Dona will be able to advise you on which type of tummy tuck you would be best suited for.
Breast Augmentation
Breast augmentation is the most popular plastic surgery in Australia and worldwide. Breast augmentation, also referred to as augmentation mammoplasty, breast implants or a 'boob job', are plastic surgeries that involve using saline or silicone implants to enhance the size, shape, symmetry and volume of your breasts. The breast augmentation procedure can be undergone alone but is commonly paired with a breast lift.
Breast Reduction
Women pursue breast reduction surgery for an array of physical and psychological reasons, although, most commonly, the underlying concern is having heavy or overly large breasts that prevent women from living out an active and comfortable lifestyle.
Breast reduction surgery, also known as reduction mammaplasty, involves the removal of breast fat, tissue and skin from the breasts to create a more natural-looking and practical breast size, shape, and weight. Breast reduction surgery promises greater relief, comfort, and confidence to women struggling with overly large and heavy breasts.
Breast lift
Also known as a mastopexy, a breast lift is designed to correct the appearance of breasts that have drooped or sagged. Breast lift surgery involves removing excess skin, redistributing breast tissue, and restoring the original projection of the breast. The breast tissue is commonly reshaped too, creating more appealing breast contour and firmness.
The nipples are typically then repositioned and raised, and larger areolas are reduced by removing the skin surrounding the perimeter so that the breasts appear naturally perky. Mastopexies can be undergone as a single procedure but are often combined with a breast augmentation or reduction.
Initial Consultation
Your initial consultation with Dr Dona is the important first step of your transformation, this will involve a discussion about the areas that you would like to have enhanced from your mummy makeover surgery.
Surgeon's Fee
Dr Dona's fee is part of the total out of pocket quote you will receive after your initial consultation with him. Mummy makeover surgery is highly tailored to the individual, therefore, the types of procedures combined, and the complexity of the surgery will affect the overall cost.
Anaesthetist's Fee
The anaesthesia fee is separate from the fees charged by your surgeon and the hospital where you have your procedure. The total fee is calculated as a number of 'units', with the dollar value calculated on the unit value chosen by your anaesthetist. The number of units required will be determined by the duration and complexity of your procedure.
You may be eligible for a rebate on your anaesthetic through Medicare, and if you have private health insurance, you may also be eligible for an additional rebate from your insurer. This fluctuates significantly between different insurers so be sure to check the specific policy arrangement between you and your insurer.
Hospital Fee
Since most plastic surgery procedures are performed in private hospitals, part of your total fee paid to Bella Plastic Surgery is the hospital fee. This covers the cost of theatre use and your post-operative care while you stay in hospital. Depending on your type of mummy makeover, you can expect to stay in hospital for one to two days after your surgery.
How Much Will My Mummy Makeover Cost?
The cost of a mummy makeover is a very common question, but the answer isn't as simple as reading a fixed price list or 'menu' – and it shouldn't be. A mummy makeover is tailored towards your individual circumstances and the price reflects that.
Our standard fee for a mummy makeover is $34,000. This all-inclusive price covers the plastic surgeon's fee, the anaesthetist's fee, all hospital and theatre fees, the cost of your implants  and twelve months of post-operative care.
Additional costs may apply depending on the complexity of the procedure, but $34,000 is our standard. If you have appropriate private health fund coverage, or you have a referral from your GP, you may be eligible to claim a rebate.
Combining surgical procedures is generally cheaper than having them done separately. While you are still required to pay the surgeon's fee, you will only need to pay the anaesthetic and hospital fees once. This could potentially be saving you thousands of dollars.
Does Private Health Insurance Cover Mummy Makeover Surgery?
Your eligibility for a rebate from your private insurance largely depends on the policy you have. If you have private health insurance with hospital cover, you may be eligible to have the hospital component and anaesthetic subsidised. Most private health insurance companies won't cover you for elective cosmetic surgery. However, if you can prove that the procedure is medically necessary, then you may be able to claim cosmetic surgery on your private health insurance and Medicare. It is best that you clarify with your health insurance fund what will be covered before you book the surgery.
Does Medicare Cover Mummy Makeover Surgery?
Medicare does not cover elective surgical procedures purely completed for cosmetic purposes. Mummy makeovers are primarily a cosmetic procedure but in certain situations, some procedures may be deemed medically necessary, and in such cases, you may be eligible for a Medicare rebate. If your stomach or breasts are causing chronic discomfort or distress, you may be eligible for a rebate. We encourage you to speak with your GP and get a referral for a consultation with Dr Dona. Without a referral, a claim cannot be made even if you are eligible.
Enquire About A Mummy Makeover
Undergoing a mummy makeover is a highly personal decision that considers your unique anatomy, aesthetic goals and personal circumstances. The best way to find out if this surgical route is right for you is by speaking with board-certified plastic surgeon Dr Dona.
For bespoke advice, contact Dr Eddy Dona, at our practice on 1300 373 662 or by using the contact form on our website here.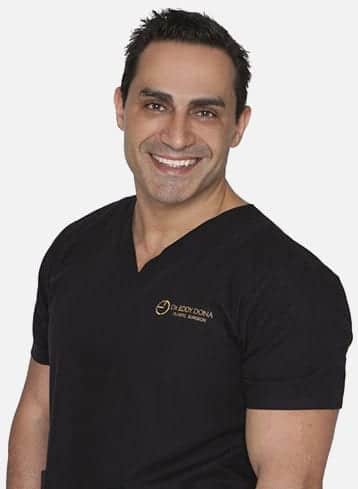 Dr Dona (FRACS) is one of the most in-demand specialist plastic surgeons in Sydney, Australia and is a member of the Australian Society of Plastic Surgeons (ASPA). Following his medicine degree at the University of Sydney in 1996, Dr Dona then began a further 11 years of intensive training to become a Specialist Cosmetic, Plastic & Reconstructive Surgeon.
Since opening his private practice in Bella Vista in 2009, Dr Dona has had patients from all over Australia seeking his expertise treatment and specialisation in cosmetic surgical procedures. Dr Dona is highly sought after for his expertise and experience in all of the cosmetic surgeries he performs. From Breast Augmentations to Tummy Tucks, Brazilian Butt Lifts and every other procedure that he performs, Dr Dona treats every patient with care and precision as if he were performing surgery on his own family member. 
Despite running a busy private practice, Dr Dona still dedicates part of his time to Sydney's largest teaching public hospitals, having provided training to over 50 specialist plastic surgeons and many more doctors. Eddy also commits part of his time to working in some of Sydney's busiest public hospitals, including providing emergency on-call services. This is where Dr Dona is often required to reconstruct the bodies of those affected by trauma and cancer.