Can Multiple Cosmetic Surgery Procedures be Combined?
Tummy Tuck | Dr Eddy Dona
Mon 24th Jan 2022
While plastic surgery is often required to restore the bodies form and function, and to boost your self-confidence and aesthetic appearance, sometimes reaching the desired outcome can require more than one procedure. Pairing multiple surgical procedures can be a way to achieve your goals, without having to undergo the recovery time from having multiple surgeries.
Although there can be advantages to combining plastic surgery procedures, not every procedure can or should be performed during the same operation. In this article, we will explore some of the advantages and disadvantages of combining plastic surgery procedures and outline some of the commonly combined surgical procedures.
Advantages of Combining Multiple Plastic Surgery Procedures
Time-efficient
Undergoing more than one cosmetic procedure in a single operation could save you time, depending entirely on which surgeries are combined. Instead of booking completely separate surgeries, consultations and recoveries, streamlining the process is one way to spend less time in the operating room and more time enjoying your new self!
Single recovery period
Combining procedures into a single operation may allow you to achieve your desired outcome sooner if the surgeries are complementary to each other, like pairing a breast lift with a tummy tuck (abdominoplasty). Instead of spreading out procedures into separate operations and having to go through the pain and discomfort of recovery in between every surgery, you can complete your transformation sooner.
Affordability
Combining surgeries can sometimes be more cost-effective, depending on which procedures are combined. There are more costs involved when you undergo surgery than just the surgeon's fees. You are also paying for the anesthetists, medical support staff and facilities – such as the use of the operating theatre and your postoperative stay in the hospital. Combining multiple surgical procedures means that you will only be charged for these services once, and therefore it may be more affordable. Of course, the biggest savings are achieved indirectly by just one downtime.
Psychological Benefits
To undergo any surgery is a major decision that comes with an enormous amount of anxiety and stress. Also, no matter how many operations you have, they are all different and anxiety-provoking. Therefore, combining surgical procedures means that you only have to go through that period of stress the one time.
Commonly Combined Plastic Surgery Procedures
Dr Dona does not have any set rules on what operations he will combine because each individual patient is assessed, and the surgical plan/s are tailored to fit their specific needs. However, some general guidelines can be considered. The final plan is determined based on what concerns the patient, how suitable they are to undergo lengthy operations, and their wound healing risks based on their general well-being and skin quality. Of course, financial considerations do play a part in the surgical planning as well. However, this will not influence the decision to combine several operations if Dr Dona considers it too risky to do so.
Breast Surgery & Tummy Tuck – Mummy Makeover
 Breast surgery can refer to several things:
Breast Augmentation
Breast Lift
Breast Lift and Implants
Breast Reduction
Breast surgery is either enhancing them and/or restoring them to a former state (often changed due to previous pregnancies). Breast operations are often combined with a tummy tuck. The term for this combination is usually referred to as a Mummy Makeover. This is an excellent and frequent combination used to address the many changes and problems to the body caused by pregnancy or massive weight loss.
Lateral Chest Lift & Brachioplasty
An arm lift (brachioplasty) is usually performed to eliminate excess hanging skin from the lower arms. In some situations, the loose skin extends beyond the armpit and down the side of the chest. In these circumstances, you may undergo an extended brachioplasty and lateral chest lift to rejuvenate the affected areas. This combination of procedures can be very effective in overcoming the excess skin that typically bulges over the side bra straps. The scar for this usually extends to the outer lower breast fold.
Brachioplasty and Breast Lift
As mentioned above, an arm lift, or Brachioplasty, is a surgical procedure that reshapes the arms by removing the excess skin and tissue, to create a tighter contour. Sometimes, an extended brachioplasty can be combined with a breast lift or reduction. This is not uncommon because your breasts have often undergone the same significant changes that your arms have experienced with significant looseness. In this combination, the scars from the extended brachioplasty joins the breast reduction (or lift) scar in a manner which helps to contour and tighten the skin around and below the armpit region whilst at the same tightening and reshaping the breasts.
Arm Reduction, Breast Surgery & Tummy Tuck
In some individuals, Dr Dona may consider it appropriate to combine these three surgical procedures. Surgery to address problems in these areas are commonly requested following massive weight loss.
Other potential combinations will include less often performed procedures such as Bra Lipectomies and Total Body Lifts.
Specific procedures should not be performed at the same time.
Thigh lifts (thighplasty) are a procedure that Dr Dona will never combine with another area. A thigh lift is a considerable operation and combining this with another procedure only creates a more complex and challenging recovery, which ultimately jeopardises the quality of your results.  A thigh lift is usually the last operation performed on someone that has undergone massive weight loss and has already had all other areas of the body contoured.
Factors to consider when deciding if combining multiple procedures is right for you
Every surgery comes with its potential complications, and ultimately the potential benefits must always significantly outweigh any potential risks before it can be considered. Dr Dona will only recommend combining surgeries when appropriate.
Along with general anaesthetic potential issues to consider for lengthy operations, potential wound healing problems are a major consideration. Combining operations also means combining wounds, so in the end, the patient's collective wound length can be substantial. Every wound has the potential for developing problems, and some patients and some surgeries have a greater potential for wound healing issues. Therefore, the risk of running into wound healing problems does factor prominently in the decision process about whether to combine different surgeries.
Increased pain intensity
Recovery after surgery is not pain-free. As you can imagine, a person enduring pain from multiple body regions may struggle more than someone experiencing pain in a single part of the body. You will of course be given plenty of appropriate pain medications as deemed appropriate by the specialist anaesthetist whilst in hospital and upon discharge. However, most patients prefer going through a single recovery period to avoid multiple periods of pain.
Higher upfront cost
While combining procedures is generally more cost-effective, combination procedures are more expensive upfront than a single procedure. Some patients prefer to spread out their procedures, allowing them to save up in between.
Overall, only an experienced plastic surgeon can determine whether a combination of surgical procedures is suitable for you. Every person's body is different and combining multiple surgeries may not be recommended for you. During your initial consultation discussion about your goals, Dr Dona will be able to advise you on whether you can combine multiple procedures into your surgery. Ultimately, a plan will be tailored to meet your unique and specific goals. For more information or to request a consultation with Dr Dona, please call our clinic on 1300 373 662 or email [email protected]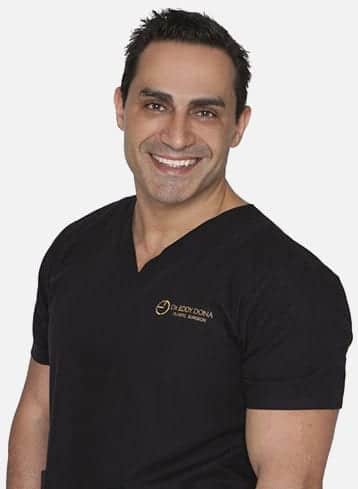 Dr Dona (FRACS) is one of the most in-demand specialist plastic surgeons in Sydney, Australia and is a member of the Australian Society of Plastic Surgeons (ASPA). Following his medicine degree at the University of Sydney in 1996, Dr Dona then began a further 11 years of intensive training to become a Specialist Cosmetic, Plastic & Reconstructive Surgeon.
Since opening his private practice in Bella Vista in 2009, Dr Dona has had patients from all over Australia seeking his expertise treatment and specialisation in cosmetic surgical procedures. Dr Dona is highly sought after for his expertise and experience in all of the cosmetic surgeries he performs. From Breast Augmentations to Tummy Tucks, Brazilian Butt Lifts and every other procedure that he performs, Dr Dona treats every patient with care and precision as if he were performing surgery on his own family member. 
Despite running a busy private practice, Dr Dona still dedicates part of his time to Sydney's largest teaching public hospitals, having provided training to over 50 specialist plastic surgeons and many more doctors. Eddy also commits part of his time to working in some of Sydney's busiest public hospitals, including providing emergency on-call services. This is where Dr Dona is often required to reconstruct the bodies of those affected by trauma and cancer.